Large Commercial Square Inflatable Stunt Jump Air Bag

When you need a high-quality, durable and reliable safety bag system to protect people from falls, our inflatable jumping stunt airbag is the answer. Inflatable bounce airbags have become an all-season attraction that can be used to create many thrilling, unforgettable and unique activities for extreme sports, adventure experiences and events. It can ensure a soft landing, withstand shocks and ensure the safety of personnel.
We use 0.55mm PVC material, each stitched part is stitched with two threads, and the reinforced part is stitched with four threads. All our products have passed SGS, CE and UL certification.

Application: Used for skiing, snowboarding, BMX, mountain bikes, scooters, skateboards, etc. throughout the year.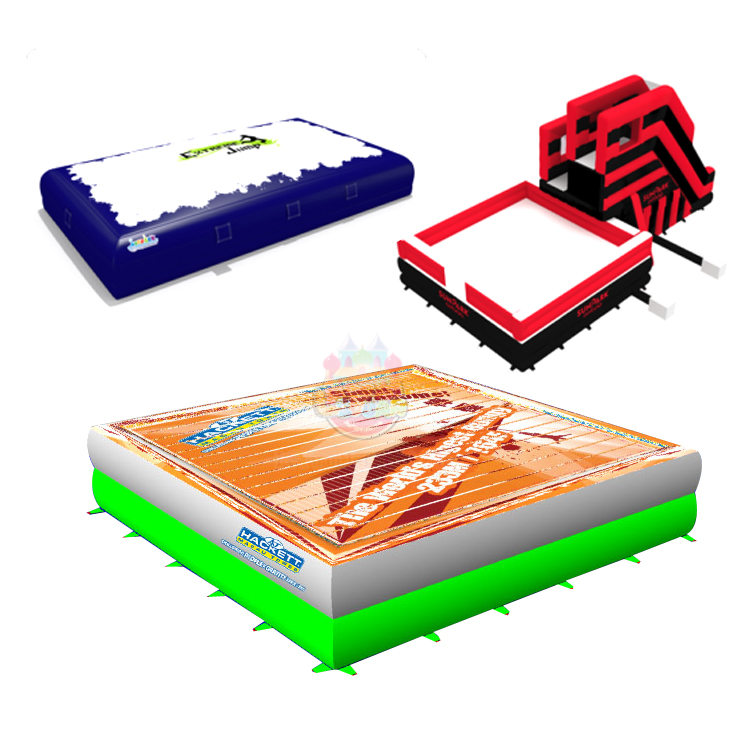 Inflatable Stunt Air Bag Specification
---
Model Number: LYI-SP04
Material: 0.55mm PVC Vinyl.
Product name: Large Commercial Square Inflatable Stunt Jump Air Bag
Keyword: Inflatable sport,Inflatable Game
Usage: freefall stunt jump, snowboarding, skiing, BMX, skate and trampoline park
Color: Customized Color
Certification: AS3533,CE,NFPA,ASTM,EN14960,BS7837,TUV.
Warranty: 3 YEAR After-sale
Place of Origin: Guangdong, China
Safe Payment
---
LeYuan Inflatables provide various main mode of payment. T/T to company account is officially recommended. Please note the company account named LEYUAN INFLATABLE PRODUCT CO LTD is safe and effective. Anyway, Western Union, Paypal, etc also are ok, so long as the A/C info is given in official LeYuan Inflatables contract(PI).

---
Submit a request for a custom inflatable made just for you! We can send by email, a photo for your review, as well!