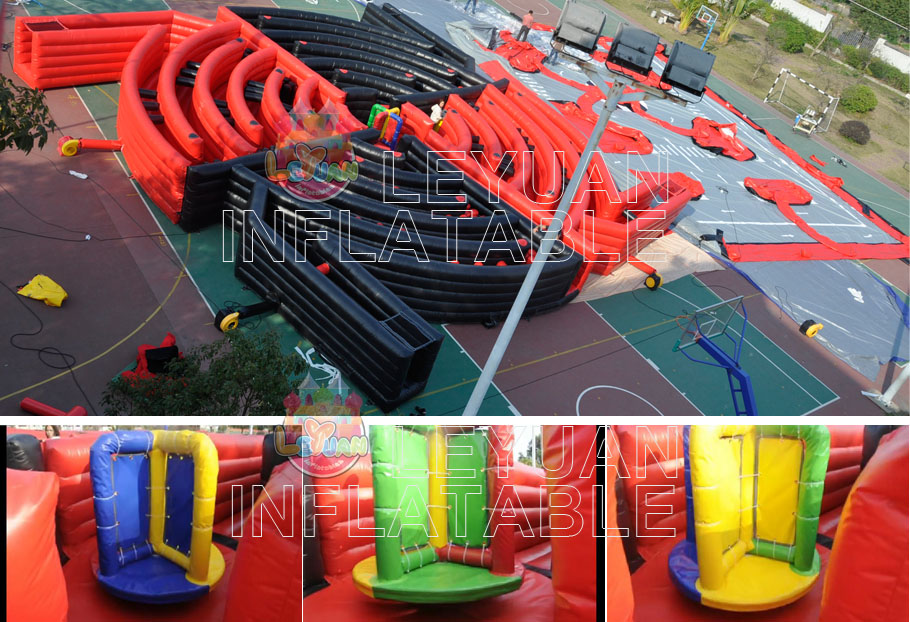 The Dizzy X inflatable Game is one of our new and most exciting games in our Inflatable products. This is an awesome interactive game, the objective of this obstacle course is to be the first out of the inflatable maze.

Once at the centre the all stand together on the Dizzy disc. They are then spun around until they are dizzy. Then they are let loose and the race begins. Each Dizzy X player has a coloured section of their own. The aim – once they have stopped spinning – is to navigate their way out of their coloured sector. The first player out of the action packed obstacle course is the winner.
Perfect for family fun days, corporate parties, student events and fund raisers.
Inflatable Karting Track Circuit Features
---
1. It use the high quality PVC material;
2. The Dizzy X disc attachment;
3. The Low Profile spin motion base with spin motion;
4. The control console with a variable speed control;
5. Strict quality control. Like SGS,CE,UL certifications;
6. Custom Designs available for different shape, size, color, logo printings, etc;



Good Quality Blower Accessory
---
LeYuan Inflatables equip reputed brand blowerforbig enough and suitable power for inflatable games. Cheap blower is unadapted for different country and easily bad. The blower have CE,CUL,US certificate.
Safe Payment
---
LeYuan Inflatables provide various main mode of payment. T/T to company account is officially recommended. Please note the company account named LEYUAN INFLATABLE PRODUCT CO LTD is safe and effective. Anyway, Western Union, Paypal, etc also are ok, so long as the A/C info is given in official LeYuan Inflatables contract(PI).

---
Submit a request for a custom inflatable made just for you! We can send by email, a photo for your review, as well!