Jet Ski Inflatable Yacht Boat Docks
---
An inflatable jet ski dock provides a safe place to park your jet ski, boat, raft or personal watercraft near your boat or dock, without worry about guests to hit the boat or dock when bringing the jet skis back. The floating platform is also safe and secure area to store skis and other water toys.
Leyuan inflatable jet ski docking platforms feature super-rigid, high pressure and non-slippery drop-stitch and PVC materials for stability, plus reinforced grab handles and tie-downs. The yachtbeach jet ski dock is the temporary water docking station which is constructed for outstanding performance and durability to be used for your boat or yacht a place to park and play.

Inflatable Jet Ski Boat Dock Feature
---
- Super-rigid and high pressure.
- Drop-stitch construction.
- Customized size & color.
- comfortably supports standing adults.
- Stainless steel D ring tie downs.
- Reinforced grab handles.
- Non slippery surface.
- Easy & quick inflation/deflation.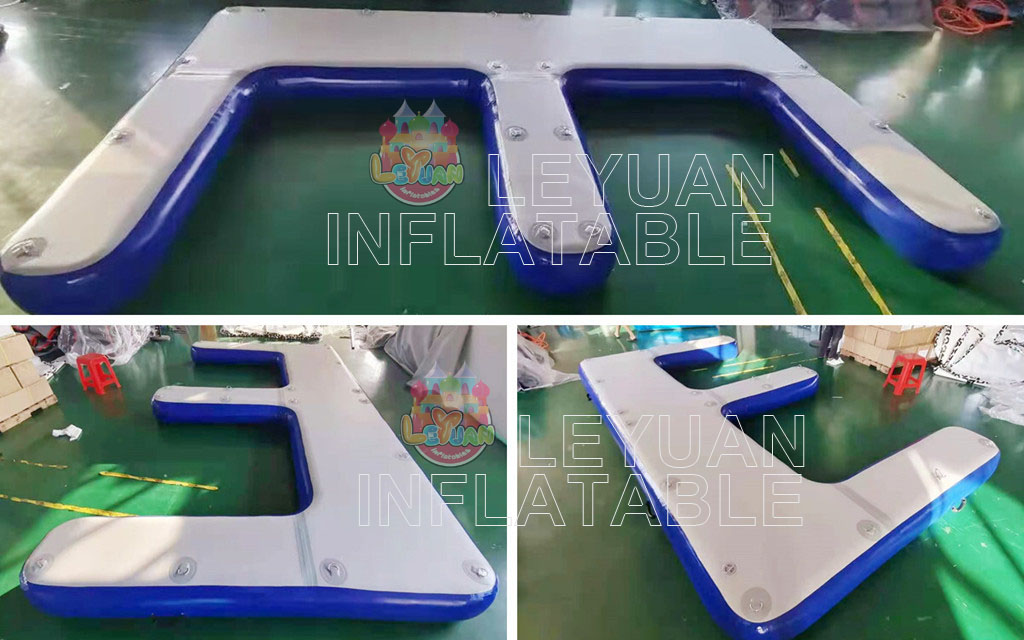 Custom Your Unique Inflatable Docks
---
Leyuan Inflatable company supplies different sized of inflatable boat docks, jet ski platform for boat, jet ski docking platforms, inflatable dock platform, inflatable floating dock platform,
inflatable yacht docks, inflatable dock for boats and lakes, jet ski inflatable boat dock, inflatable platform dock, inflatable docking station, inflatable platform, inflatable water lounge, inflatable surfboard and other inflatable water attractions. Whatever you can imagine, give us an idea and we will create it. Email or call us today and arrange for a 3D design drawing.