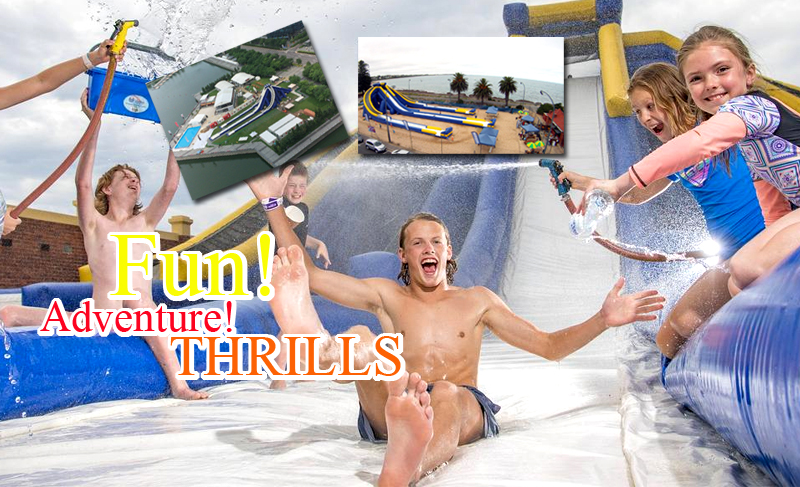 LYI-HSL01 trippo water slide (use wet or dry) is the world's largest inflatable water slide, designed on the same scale as attractions in theme parks and water parks. Standing three stories tall, this incredible product is revolutionary inthe world of enterxainment. Offers two curved side chutes and one straightaway main chut. Easy operation, just need to put two water hoses on the top of slide.
Application: The giant trippo water slide is great for carnival, festivals, RV parks, beaches, FEC's, state parks, corporate events, grand openings, sports venues, trade shows or any other large event.
LEYUAN has taken time and cut no corners in designing and manufacturing top quality Inflatable amusement ark for adults and children in various colors, themes and sizes.
Specification
---
1. Commercial-grade quality.
2. Lead-safe PVC vinyls and flame-retardant materials.
3. Double-stitched & quadruple stitching reinforced seams.
4. Special Reinforcements in High Stress Areas.
5. Ultra heavy-duty baffles.
6. Finger safe mesh netting.
7. Heavy-duty deflation zippers with velcro straps.
8. Stainless Tie down D rings 450kg load for each.
9. Replaceable climb and slide covers.
10. Customization & Design Assistance.


Good Quality Blower Accessory
---
LeYuan Inflatables equip reputed brand blowerforbig enough and suitable power for inflatable games. Cheap blower is unadapted for different country and easily bad. The blower have CE,CUL,US certificate.
Safe Payment
---
LeYuan Inflatables provide various main mode of payment. T/T to company account is officially recommended. Please note the company account named LEYUAN INFLATABLE PRODUCT CO LTD is safe and effective. Anyway, Western Union, Paypal, etc also are ok, so long as the A/C info is given in official LeYuan Inflatables contract(PI).

---
Submit a request for a custom inflatable made just for you! We can send by email, a photo for your review, as well!