Get this red race car theme inflatable slide for a try, kids first get through the traffic cones obstacles and climb to top then slide down. This small inflatable slide has two race slide lanes for boys who love race car toys, kids climb up to the start line of slides and slide down like a fast car. The bottom inflatable wall cushion the impact and keep children safe.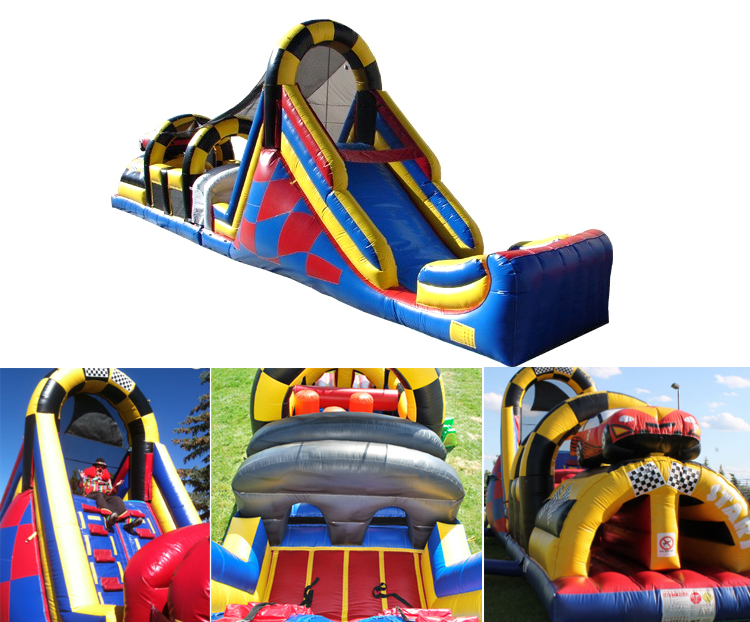 Application: large playgrounds, amusement park, beach, run race,team building and other commercial events.
LEYUAN INFLATABLES's quality craftsmanship also ensures its maximum durability and attraction for years of use and service. Let's start you on your inflatable journey today!
Features
---
High quality PVC material
3 layers, Retardant, Non-toxic, Environmental protection.
Our all inflatables are made by high durability fire-retardant Tarpaulin, which has 3 layers as you as see from left picture,double coated side with a strong net inside.
Safe zipper flaps
For quick deflation or sandbags, the zipper flaps can be made internal or external.
Strong stainless anchor points
Provides safety, stability ad rigidity to the maze outdoor.
CE/UL blowers/ pumps
Powerful Blower/ pumps with CE/UL certificate and one repair kit.
Different voltage will suit your usage in different countries.

More Design of Inflatable Obstacle Course
---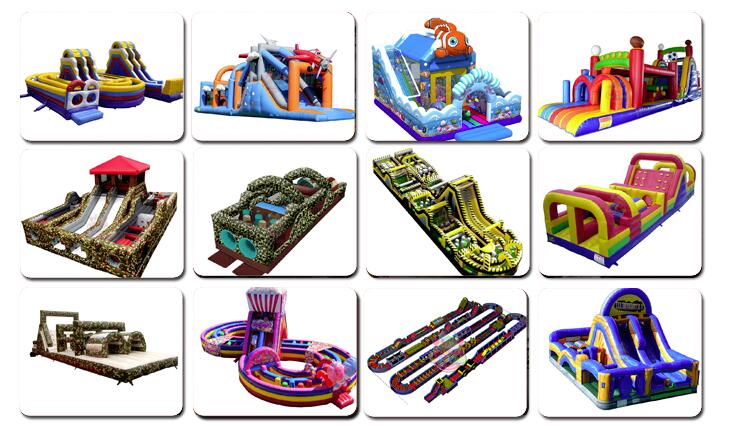 We Can Offer
---
· Computer design to customer's individual requirements
· Professional research and development
· Manufacturing to specific standards such as the Australian Standard 3533.
· Good after sale service.
Quality Excellent :
· We use high quality Plato PVC materials.
· We double and when requested, can quadruple stitch for added strength.
· We can add reinforcement by using seat belt fabric on the bouncing surfaces and on corner joints.
Good Quality Blower Accessory
---
LeYuan Inflatables equip reputed brand blower for big enough and suitable power for inflatable games. Cheap blower is unadapted for different country and easily bad. The blower have CE,CUL,US certificate.
Safe Payment
---
LeYuan Inflatables provide various main mode of payment. T/T to company account is officially recommended. Please note the company account named LEYUAN INFLATABLE PRODUCT CO LTD is safe and effective. Anyway, Western Union, Paypal, etc also are ok, so long as the A/C info is given in official LeYuan Inflatables contract(PI).

---
Submit a request for a custom inflatable made just for you! We can send by email, a photo for your review, as well!